Major Research Themes:
Optical Systems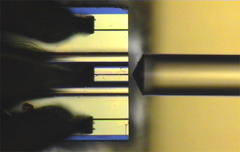 Develop optical communication systems using advanced devices for enhanced signal fidelity. We are exploring large scale digital links with high signal-to-noise ratio and microwave photonic links with high dynamic range.
Facilities
Facilities for this research include multi-channel dynamic range test-set to 20 GHz and 12 Gbps BERT. An inventory of optical components and modules for complete network synthesis has been generously donated by our corporate sponsors.
Team
Publications
Publications